Welcome to Now I See A Person Institute
Now I See A Person Institute (NISAPI) is a non-profit organization that specializes in Community Engagement: A Collaborative Recovery Model (CEACRM) of mental health and substance abuse treatment.  We provide therapy (trauma related), family reunification services (monitoring, visitation), and life coaching services in a naturalistic environment in Los Angeles County, California.
In addition to these services, we offer training and multiple learning venues for clinicians in the collaborative recovery model of community-based services, (CEACRM) and collaborative practices. This includes an international hosting program for learners to immerse themselves for lengthy periods of time. We are associated with international colleagues who share similar passions to provide services for trauma and parity and co-occurring diagnoses, where hope for change has disappeared.
NISAPI specializes in high-risk populations of trauma. Our clients, with histories of extensive trauma, histories of unsuccessful therapy or psychiatric intervention, come to a nurturing and normal horse ranch to heal and recover.
Our model of therapy is evidence based reflecting recovery for a broad range of mental health challenges, populations and diagnoses.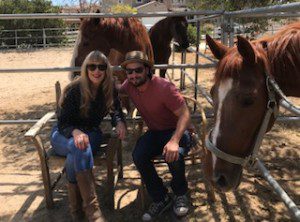 Healing Underserved Populations From Trauma
Now I See a Person Institute–Healing Underserved Populations from Trauma– using CEACRM at a horse ranch. Our clients, with histories of significant trauma and unsuccessful treatment histories ("underserved populations"), come to a nurturing and normal horse ranch to heal and recover. Within our theoretical model we involve significant members within the client system to aid in transformation for long lasting and sustainable change. Our clients learn to see themselves through genuine and strength-based lenses that transcend diagnosis or treatment history into new self-identities, agency-empowerment, leaving behind hopelessness and despair. Our clients help to direct their own change and new possibilities in the lives they wish to lead. We believe in and listen to every client and their family's needs to create the goals they wish to accomplish.
Therapy at Now I See A Person Institute
We invite a new understanding of the person. Through supportive and positive dialogue, new experiences and possibilities for goals arise in a safe and spontaneous manner. As opposed to an office setting, the outdoor environment of a horse ranch provides an atmosphere of embracement, normalcy and encouragement.  The resulting conversations between therapists and clients surround themes of overcoming trauma, building healthy relationships, managing conflicts, and promoting healthy self-identities occur seamlessly. Clients learn to be co-facilitators in a journey of change and feel they are listened to and are making the changes they desire to.
We wish to create an environment in therapy where one does not feel judged, but is allowed a safe conversational space where the client can lead us to what is important to talk about, and in their own time and pace.  Our belief is that clients need the freedom to express their thoughts in a manner that respects and hears their ideas for change. Once our client's co-create their goals, change happens almost spontaneously. The horses who welcome our clients provide love and nurturance, as well as our team of caring therapists who help promote change where change was impossible in the past.
All services happen at a horse ranch within venues that promote natural, normal and nurturing environments. In our research clients' report "feeling like they weren't having therapy" was paramount in their journey to change.
Our go fund me page is https://www.gofundme.com/healing-underserved-from-trauma.
LinkedIn: Dr. Susan Swim, https://www.gofundme.com/healing-underserved-from-trauma. Or gf.me/u/d846vt
Follow us on Twitter:@nowiseeaperson, Instagram: #NISAPI, utube:http://youtu.be/M1_GzLspStU, or now I see a person 2018 for our latest short interviews.